Hyperinflation
is like an avalanche, forest fire, earthquake, or volcano eruption. Conditions for a chain reaction build up and then things happen fast. But the build up time can be very long. It is not really possible to predict exactly when the chain reaction will start. The best you can do is say that conditions for the chain reaction are such that there is a high risk. Certain types of things can transition from stable to destruction very quickly with very little provocation.
If conditions are right, a small rabbit jumping across the snow could set off a huge avalanche. Conditions in Japan are such that some small event could trigger hyperinflation at any time. Maybe China sinking a Japanese boat or a pension fund getting out of JGBs. We don't know what the equivalent of the rabbit will be for Japanese hyperinflation, but we can tell Japan has the setup for this type of chain reaction.
Again
and
again
there are blog posts where people say the fact that Japan or the USA has not had hyperinflation so far proves that the theories saying there is a risk of hyperinflation are wrong. This is just not true. That an avalanche has not happened yet is in no way proof that there is no risk of avalanche. Such logic is flawed. It ignores the fast moving chain reaction that is fundamental to the nature of the problem. The same is true for hyperinflation. That it has not happened yet does not in any way prove that there is not a high risk of hyperinflation. Many countries went from normal inflation to
hyperinflation
rather quickly.
I have yet to have any really strong logical attack on my
hyperinflation explained
or
hyperinflation faq
posts. More than 100 times I have tried to engage other bloggers posting about hyperinflation.
The lack of any serious intellectual challenge to my "
positive feedback
theory of hyperinflation" is more of a confirmation of my theory than the lack of hyperinflation in Japan or the USA is any sort of refutation.
Cnningham's Law
says, "the best way to get the right answer on the Internet is not to ask a question, it's to post the wrong answer.". If I was wrong, I really think someone would have been able to point this out by now.
The
xkcd Duty Calls
sort of sums this up: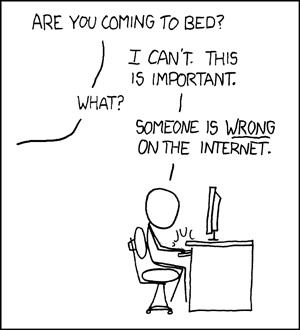 I think it is safe to say there is nothing obviously wrong with my theory of hyperinflation.
Dear reader, if you think there is anyone that could refute my theory of hyperinflation please send them a link to this post.